How To Order A Custom Sundae Ice Cream Cake
HOW TO ORDER A CUSTOM
SUNDAE ICE CREAM CAKE
It's easy! Just call your nearest ​Sundae location​ or stop in to place your order.
Orders must be placed a minimum of 72 hours in advance of your preferred pick-up time.
Need it sooner? Grab a freshly made ice cream cake, hand-packed pints, and artisan ice cream sandwiches from the Joy-To-Go case at your local Sundae scoop shop.
Anatomy Of An Ice Cream Cake
---
The bottom layer is actual cake. The top layers are ice cream. You can choose 1-2 ice cream flavors, and up to 2 toppings to mix in. Then the cake is covered in whipped icing and decorated with an inscription of your choice.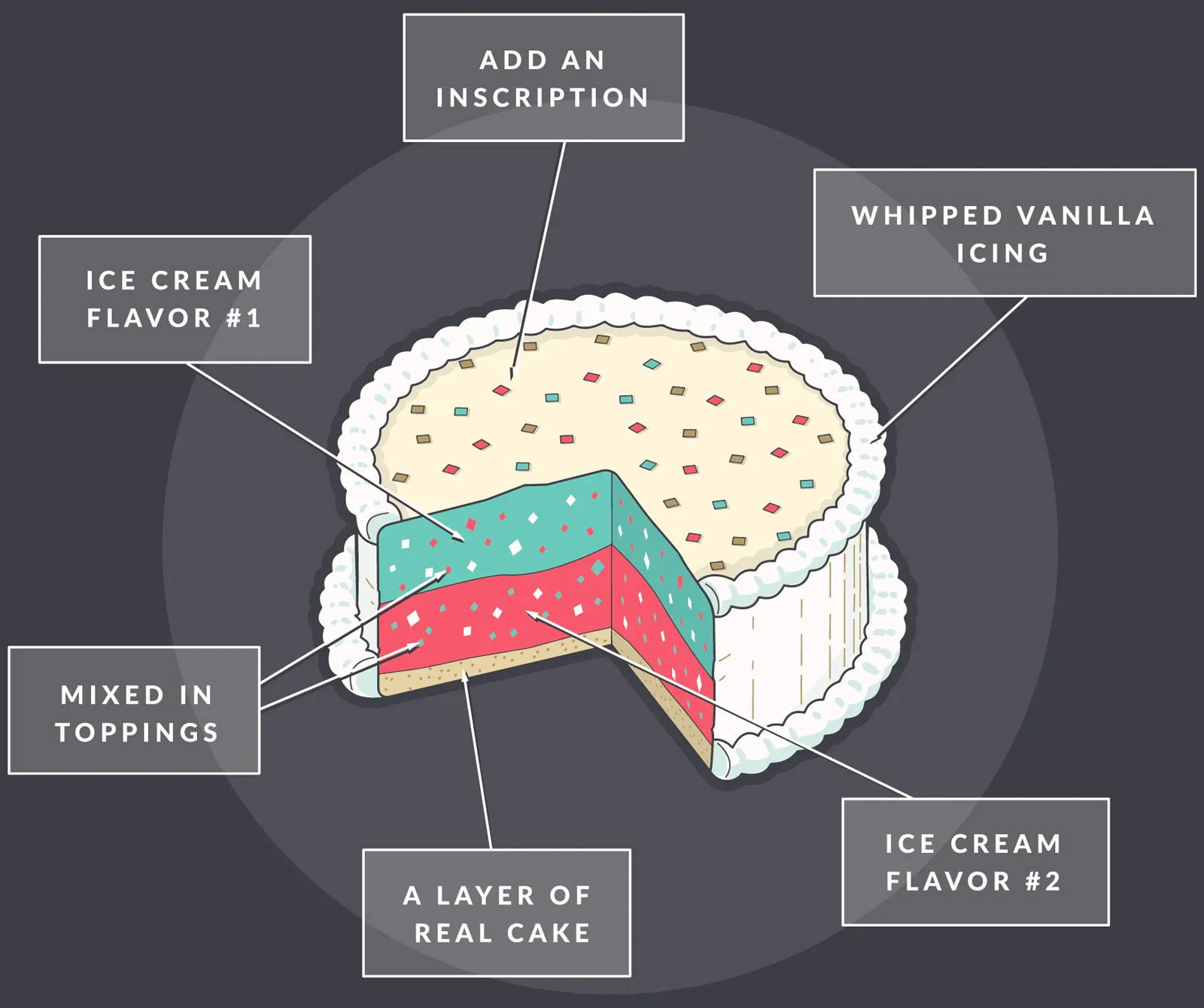 Pick Your Size
SMALL (SERVES ~8): $35.00
LARGE (SERVES ~15): $42.00
PARTY SIZE (SERVES ~25): $60.00
Pick Your Flavors
Cake (pick one)
---
ICE CREAM (PICK ONE or TWO)
Vanilla
Chocolate
Strawberry
Sweet Cream
Espresso
Salted Cookies & Cream
Cheesecake
Salty Caramel Brickle
Birthday Cake
Mint Cocoa Nib Chip
Don't see your favorite in the list above?
Other flavors are available with at least 5 days notice.
---
Mixed In Toppings (Pick Up To Two)
Unicorn Cone Pieces
Chopped Peanuts
Toasted Pecans
Chocolate Toffee Crunch
Chocolate Rocks
Chocolate Covered Pretzels
Dark Chocolate Chips
Mini Gummy Bears
Chocolate Cookie Pieces
Mini Marshmallows
Rainbow Sprinkles
Peanut Butter Cups
Graham Cracker Crumble
Crushed Malted Milk Balls
Candied Hazelnuts
Brownie Chunks
Gingersnap Cookies
Peanut Brittle
Sea Salt
Strawberries
Cherry Compote
Cookie Dough
& More
Looking For Inspiration?
Some popular flavor combinations include:
Birthday Cake Ice Cream with Rainbow Sprinkles mixed in and Yellow Cake on the bottom
Cheesecake Ice Cream with Strawberries and Graham Cracker Crumble mixed in and Yellow Cake on the bottom
Sweet Cream Ice Cream with Chocolate Cookie Pieces and Cookie Dough Mixed in and Yellow Cake on the bottom
Chocolate Ice Cream with Peanut Butter Cups mixed in and Chocolate Cake on the Bottom
Ice Cream Flavor #1: Espresso, Ice Cream Flavor #2: Mint Cocoa Nib Chip With Chocolate Cake On The Bottom
Edwards – (970) 766-7522
Glenwood Springs – (970) 456-1355
Vail Village – (970) 479-1705
Snowmass Base Village –
Custom ordering is not available at this location.
Please call the store to see what is in stock today:
(970) 315-3488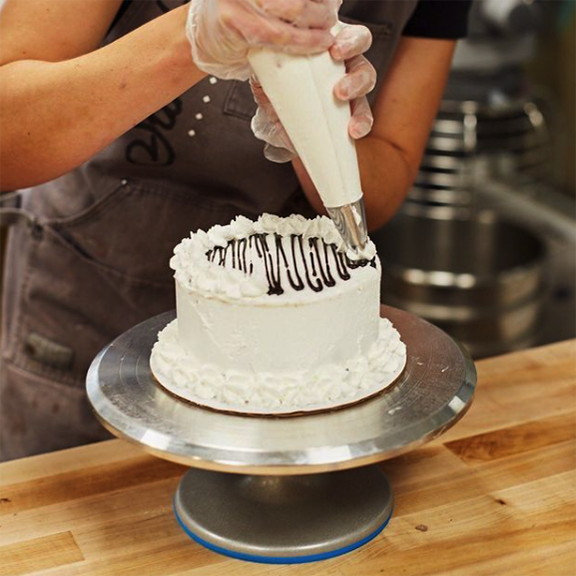 Allergy Statement
◆ ◆ ◆ ◆
Many of our treats contain
dairy, eggs, nuts, or wheat.
Please call us if you have any questions about our allergy accommodations.